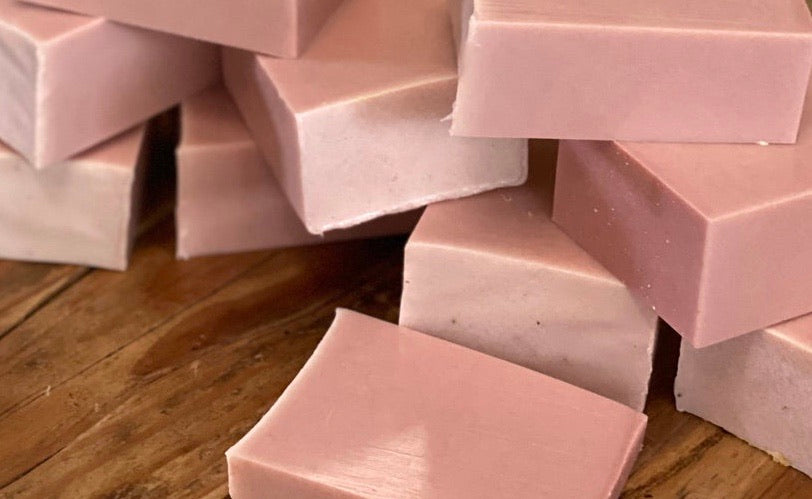 Handmade Lilikoi Soap from Kauai
$14.00
Ingredients: 
Coconut Oil, Palm Oil, Safflower Oil, Glycerin (kosher), of vegetable origin, Goat's Milk, Sodium Hydroxide, Distilled Water, Sorbitan oleate (emulsifier), oat protein (conditioner) Titanium Dioxide.
Fragrance: Liliko'i Rose
ALOHA!
Soapmaking has pulled together my love of color and design and the desire to be creative in a spontaneous way, creating something that is useful and beautiful.
I named my shop Kahanananea because it literally means "to be content (enjoyable) work" I find joy in producing each batch of soap and canʻt seem to wait to make another. New ideas come as I get inspired by my family, friends, and community and the beauty that surrounds me living in Hawaiʻi Nei.
Soap making has given me the opportunity to use the Hawaiian Language; connecting the designs of some of my soaps to my surroundings in Hawaiʻi, like the mountains, the flora, sea, sand, and the surf. 
 I try and incorporate  Kaua`i produce as much as possible and then order those Organic Oils and botanical to complement the soap I am making.
You will find organically grown pumpkin, mangoes, papayas, aloe, tumeric (ʻŌlena) bananas, kalo, used in the soaps. Each formula is my own and is formulated to keep your skin moist but cleansed.
Essential Oils are used along with some Fragrance oils. I like to provide something for everyone.
I am blessed to know that God has given me this opportunity to share my happiness and passion. Producing a product that is good for the skin and may be helpful to others, gives me a sense of joy and accomplishment. 
Aloha i kou ʻili! (Love your skin!),
Debbie