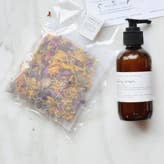 Lavender Lullaby Wash
$16.00
A blend of castile soap and lavender floral water for a natural and safe way to clean baby. Detergent, preservative, additive, dye, fragrance free and non-toxic, this gentle formula is earth and sensitive skin-friendly.
4 oz
USE: Massage onto warm damp skin to lift debris.
INGREDIENTS: lavender floral water, distilled water, castile soap, vitamin e
Made by Among the Flowers
Among the Flowers has been a transformation of my lifestyle, years in the making.
I have always enjoyed lovely products, beautiful scents, and spending sacred moments in self care. The moment I became responsible for a new life, my first son, the study of ingredients in every household and body product I owned became my new reality. In this I learned how damaging every day items are to our health. Sadly the most commonly used brands and easily accessed goods are filled with damaging ingredients. My goal was to change our home environment and improve what were bodies are exposed to.
My greatest inspiration in life is drawn from the beauty of completely wild spaces.
The neon coral of the sunset before rain.
The gently shifting golden grass of summer.
The calming pace of dripping rain, and silence of snowfall.
Each creation is drawn from a feeling, a vision and then actualized through a completely natural blending of botanicals. From aromatherapeutic benefits, to the vivid colors found in seed oils and dried flowers, to the simplicity of each label- my team and I strive to deliver an enhanced ritual of positive, reflective, generative beauty.