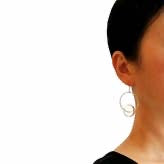 Round and Round Glass Earrings
$80.00
 A bubble within a golden circle.
Length: appx. 2.25"
Material: gold filled, hand-blown glass
Hyun Yu is a designer based in Los Angeles. She is professionally trained as a fine artist and graphic designer. 
Hyun designs and produces all of the work, focusing on material exploration and forms as wearables. Her approach to jewelry is influenced by her background in graphic design and fine art, translating 2D into touchable objects. "Creating to me is like connecting one dot after another until it takes a shape."